---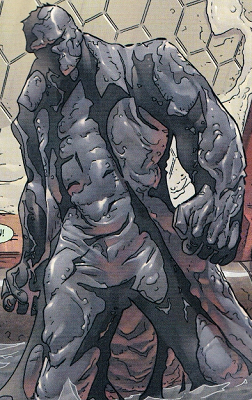 ---
| | |
| --- | --- |
| Alternate IDs: | Willy Wigglemun |
| Player: | TBD |
| Campaign/GM: | FOE Campaign/Preston |
| Version: | Tue, 31 Jan 2017 19:38:03 |
---
| | | | | |
| --- | --- | --- | --- | --- |
| Val | Char | Cost | Roll | Notes |
| 40/60 | STR | 30 | 17- / 21- | HTH Damage 8d6/12d6 END [4/6] |
| 29 | DEX | 30 | 15- | OCV 10 DCV 10 |
| 28 | CON | 36 | 15- | |
| 20 | BODY | 20 | 13- | |
| 8 | INT | -2 | 11- | PER Roll 11- |
| 10 | EGO | 0 | 11- | ECV: 3 |
| 30 | PRE | 20 | 15- | PRE Attack: 6d6 |
| 8 | COM | -1 | 11- | |
| 18/30 | PD | 2 | | |
| 18/30 | ED | 4 | | |
| 6 | SPD | 10 | | |
| 14 | REC | 0 | | Run: 6" |
| 56 | END | 0 | | Swim: 2" |
| 54 | STUN | 0 | | Leap: 19"/23" |
---
Disadvantages
Pts
Distinctive Features: Heavy pile of mud-lump muscles in man-form (Concealable; Major Reaction)
15
Enraged: Knocked back (Uncommon), go 11-, recover 14-
10
Hunted: Chumpions 8- (Mo Pow; Harshly Punish)
15
Hunted: The Green Sphinx 11- (Mo Pow; NCI; Limited Geographical Area; Watching)
10
Hunted: The Whetherman 8- (As Pow; Harshly Punish)
10
Hunted: PRIMUS 8- (Mo Pow; Harshly Punish)
15
Social Limitation: Grunts when in Grokbak form (Occasionally; Minor; Not Limiting In Some Cultures)
0
Psychological Limitation: Must obey the Green Sphinx (Very Common; Total)
25
Psychological Limitation: Charges into a fight (Common; Strong)
15
Psychological Limitation: Shows off for women (Common; Moderate)
10
Social Limitation: Secret Identity (Willy Wigglemun) (Occasionally; Severe)
15
Vulnerability: 2 x STUN air/wind (Uncommon)
10
| | | |
| --- | --- | --- |
| | Base : | 200 |
| | Disads : | +150 |
| | XP Spent : | +0 |
| | Total = | 350 |
| | |
| --- | --- |
| 149 | : Characteristics Cost |
| 171 | + Powers Cost |
| 30 | + Martial Arts/Skills/Perks/Talents Cost |
| 350 | = Total Cost |
Pts.
Power/Skill/Perk/Talent
END
Powers
Reliable Powers
10
1) Clinging (normal STR)
0
14
2) Damage Resistance (14 PD/14 ED)
0
12
3) Knockback Resistance -6"
0
Special Defenses, all slots Activation Roll 14- (-1/2)
3
1) Lack Of Weakness (-5) for Normal Defense (5 Active Points)
0
7
2) LS (Self-Contained Breathing) (10 Active Points)
0
7
3) Mental Defense (12 points total) (10 Active Points)
0
7
4) Power Defense (10 points) (10 Active Points)
0
Characteristics, all slots OIVID (-1/4)
15
1) +9 DEX (27 Active Points); No Figured Characteristics (-1/2)
16
2) +2 SPD (20 Active Points)
6
3) +8 PD (8 Active Points)
6
4) +8 ED (8 Active Points)
26
Grokbak Nokbak: Double Knockback (+3/4) for up to 43 Active Points of STR (32 Active Points); OIVID (-1/4)
3
8
Mutant Powers: Elemental Control, 20-point powers, (10 Active Points); all slots OIVID (-1/4)
12
1) You No Nokbak Grokbak: Density Increase (1,600 kg mass, +20 STR, +4 PD/ED, -4" KB), Reduced Endurance (1/2 END; +1/4) (25 Active Points)
1
8
2) Grok Grok Grok: FF (8 PD/8 ED), Reduced Endurance (1/2 END; +1/4) (20 Active Points)
1
8
3) Grokbak Get There: Leaping +11" (19"/23" forward, 9 1/2"/11 1/2" upward) (Accurate), Reduced Endurance (1/2 END; +1/4) (20 Active Points)
1
6
4) Grokbak Getcha: Stretching 4" (20 Active Points); 8 Charges (-1/2)
[8]
Skills
3
Acrobatics 15-
3
Breakfall 15-
3
Paramedics 11-
2
PS: High school gym coach 11-
3
Strength Tricks: Power 17- (21-)
3
Tactics 11-
3
Teamwork 15-
| | | | | | | | |
| --- | --- | --- | --- | --- | --- | --- | --- |
| Base OCV: | 10 | | Base DCV: | 10 | | Base ECV: | 3 |
| Adjustment + | | | Adjustment + | | | Adjustment + | |
| Final OCV: | | | Final DCV: | | | Final ECV: | |
---
Combat Maneuvers
Name
Phase
OCV
DCV
Effect
Block
1/2
+0
+0
Block, Abort
Brace
0
+2
1/2
+2 vs. Range Mod.
Disarm
1/2
-2
+0
Can disarm
Dodge
1/2
---
+3
Abort, vs. all attacks
Grab
1/2
-1
-2
Grab two limbs
Grab By
1/2
-3
-4
Move and Grab
Haymaker
1/2*
+0
-5
+4DC to attack
Move By
1/2
-2
-2
STR/2 + v/5
Move Through
1/2
-v/5
-3
STR + v/3
Set
1
+1
+0
Ranged attacks only
Strike
1/2
+0
+0
STR or weapon
Pts.
Martial Arts
5
Flying Dodge: 1/2 Phase, -- OCV, +4 DCV, Dodge All Attacks, Abort; FMove
5
Defensive Strike: 1/2 Phase, +1 OCV, +3 DCV, 8d6 / 12d6 Strike
---
| | | | | | | |
| --- | --- | --- | --- | --- | --- | --- |
| Range | 0-4 | 5-8 | 9-16 | 17-32 | 33-64 | 65-128 |
| RMod | 0 | -2 | -4 | -6 | -8 | -10 |
---
DEX: 29
SPD: 6
ECV: 3
Phases: 2, 4, 6, 8, 10, 12
18/30 PD (14/22 rPD)
18/30 ED (14/22 rED)
MD: 12
END: 56
STUN: 54
BODY: 20
---
| | | | | | |
| --- | --- | --- | --- | --- | --- |
| Roll | Location | STUNx | NSTUN | BODYx | To Hit |
| 3-5 | Head | x5 | x2 | x2 | -8 |
| 6 | Hands | x1 | x1/2 | x1/2 | -6 |
| 7-8 | Arms | x2 | x1/2 | x1/2 | -5 |
| 9 | Shoulders | x3 | x1 | x1 | -5 |
| 10-11 | Chest | x3 | x1 | x1 | -3 |
| 12 | Stomach | x4 | x1.5 | x1 | -7 |
| 13 | Vitals | x4 | x1.5 | x2 | -8 |
| 14 | Thighs | x2 | x1 | x1 | -4 |
| 15-16 | Legs | x2 | x1/2 | x1/2 | -6 |
| 17-18 | Feet | x1 | x1/2 | x1/2 | -8 |
Height: 2.00 m
Hair: Black / Bald (Willy Wigglemun / Grokbak)
Weight: 100.00 kg
Eyes: Dark brown / Yellow with orange pupils (Willy Wigglemun / Grokbak)
Appearance: Grokbak is a 2 m, 100 kg black pile of mud in human form, with bright yellow eyes and glowing orange pupils. If he needs to disguise himself, he can wear a trenchcoat, hats, and sunglasses, but this only passes the casual glance test. More clandestine activities require the use of Willy Wigglemun, the gym coach.
Background: The newspaper ad looked like a sure thing. Who wouldn't want $500 for participating in some survey experiment? So Willy Wigglemun walked into the drugstore pharmacy and signed up. He had to come back five times for a shot, and at the end, sure enough, they paid him with a nice green check. But they told him the injections would be harmless. They weren't, not exactly. While he was receiving the shots, Willy felt great. His strength increased, he moved faster, and he seemed to get hold of the confidence that had eluded him in life. But WIlly started having bad dreams about two weeks after the treatment ended. He woke up at night sweating. The next night, covered in mud. Then covered in mud and blood and bits of someone's neck and shoulder. And strangely full, with a sudden need to vomit. With the slowness his plodding thoughts unvealed to Willy Wigglemun that he was this obscene and murderous beast, a creature so powerful it could kill without being detected. Thus was Grokbak born, the mutated form of dimwitted gym coach Willy Wigglemun. He comes from a world just like this one, except Hitler became Emperor of Japan when World War II ended.
Personality: Willy Wigglemun is a showoff who likes to act first and think second. Grokbak is a deformed beast who often grunts when he speaks. He sometimes uses animal grunts to mask his intelligence.
Quotes: Grokbak do nokbak you grok bak to da Stone Age!
Powers/Tactics: Grokbak has the choice of using his double knockback ability against opponents who might be knocked into something solid or his Defensive Strike against opponents he wants to damage without sending them flying.
Campaign Use/Notes: Grokbak is a murderer and enforcer character.