---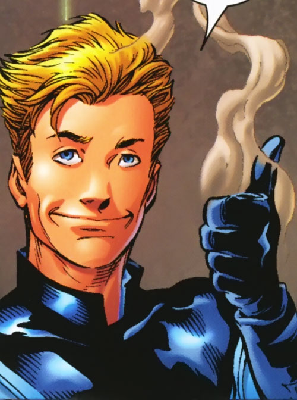 ---
| | |
| --- | --- |
| Alternate IDs: | Tom Thompson |
| Player: | TBD |
| Campaign/GM: | FOE Campaign/Preston |
| Version: | Tue, 31 Jan 2017 20:41:39 |
---
| | | | | |
| --- | --- | --- | --- | --- |
| Val | Char | Cost | Roll | Notes |
| 40 | STR | 30 | 17- | HTH Damage 8d6 END [4] |
| 29 | DEX | 30 | 15- | OCV 10 DCV 10 |
| 28 | CON | 36 | 15- | |
| 20 | BODY | 20 | 13- | |
| 10 | INT | 0 | 11- | PER Roll 11- |
| 10 | EGO | 0 | 11- | ECV: 3 |
| 20 | PRE | 10 | 13- | PRE Attack: 4d6 |
| 16 | COM | 3 | 12- | |
| 18/30 | PD | 2 | | |
| 18/30 | ED | 4 | | |
| 6 | SPD | 10 | | |
| 14 | REC | 0 | | Run: 6" |
| 56 | END | 0 | | Swim: 2" |
| 54 | STUN | 0 | | Leap: 8" |
---
Disadvantages
Pts
Distinctive Features: Extreme Beauty (Concealable; Major Reaction; Detectable By Commonly-Used Senses)
15
Enraged: Ignored, particularly by women (Common), go 8-, recover 14-
10
Hunted: Chumpions 8- (Mo Pow; Harshly Punish)
15
Hunted: The Green Sphinx 11- (Mo Pow; NCI; Limited Geographical Area; Watching)
10
Hunted: Grokbak 8- (As Pow; Harshly Punish)
10
Hunted: Primus 8- (Mo Pow; Harshly Punish)
15
Psychological Limitation: Must Obey the Green Sphinx (Very Common; Total)
25
Psychological Limitation: Needs to be the center of attention (Common; Strong)
15
Psychological Limitation: Postures when he should be doing something (Common; Moderate)
10
Social Limitation: Secret Identity (Tom Thompson) (Occasionally; Severe)
15
Vulnerability: 2 x STUN Earth/Stone (Uncommon)
10
| | | |
| --- | --- | --- |
| | Base : | 200 |
| | Disads : | +150 |
| | XP Spent : | +0 |
| | Total = | 350 |
| | |
| --- | --- |
| 145 | : Characteristics Cost |
| 164 | + Powers Cost |
| 41 | + Martial Arts/Skills/Perks/Talents Cost |
| 350 | = Total Cost |
Pts.
Power/Skill/Perk/Talent
END
Powers
Reliable Powers
10
1) Damage Resistance (10 PD/10 ED)
0
Special Defenses, all slots OIVID (-1/4), Limited Power loses about a fourth of its effectiveness (not against earth/stone; -1/4)
7
1) Clinging (normal STR) (10 Active Points)
0
3
2) Lack Of Weakness (-5) for Normal Defense (5 Active Points)
0
7
3) LS (Self-Contained Breathing) (10 Active Points)
0
4
4) Mental Defense (8 points total) (6 Active Points)
0
5
5) Power Defense (8 points) (8 Active Points)
0
Characteristics, all slots OIVID (-1/4)
15
1) +9 DEX (27 Active Points); No Figured Characteristics (-1/2)
16
2) +2 SPD (20 Active Points)
6
3) +8 PD (8 Active Points)
6
4) +8 ED (8 Active Points)
12
Weather Powers: Elemental Control, 30-point powers, (15 Active Points); all slots OIVID (-1/4)
12
1) Air Armor: FF (12 PD/12 ED), Reduced Endurance (1/2 END; +1/4) (30 Active Points)
1
13
2) Wind Mastery: Flight 13", Position Shift (31 Active Points)
3
48
3) Air Blast: EB 15d6 (75 Active Points)
7
Skills
6
Penalty Skill Levels: +4 vs. Range Modifier with Air Blast
3
Acrobatics 15-
3
Air Tricks: Power 15-
3
Breakfall 15-
3
Navigation (Air, Marine) 11-
2
PS: TV Weatherman 11-
3
Tactics 11-
3
Teamwork 15-
| | | | | | | | |
| --- | --- | --- | --- | --- | --- | --- | --- |
| Base OCV: | 10 | | Base DCV: | 10 | | Base ECV: | 3 |
| Adjustment + | | | Adjustment + | | | Adjustment + | |
| Final OCV: | | | Final DCV: | | | Final ECV: | |
---
Combat Maneuvers
Name
Phase
OCV
DCV
Effect
Block
1/2
+0
+0
Block, Abort
Brace
0
+2
1/2
+2 vs. Range Mod.
Disarm
1/2
-2
+0
Can disarm
Dodge
1/2
---
+3
Abort, vs. all attacks
Grab
1/2
-1
-2
Grab two limbs
Grab By
1/2
-3
-4
Move and Grab
Haymaker
1/2*
+0
-5
+4DC to attack
Move By
1/2
-2
-2
STR/2 + v/5
Move Through
1/2
-v/5
-3
STR + v/3
Set
1
+1
+0
Ranged attacks only
Strike
1/2
+0
+0
STR or weapon
Pts.
Martial Arts
5
Flying Dodge: 1/2 Phase, -- OCV, +4 DCV, Dodge All Attacks, Abort; FMove
5
Offensive Strike: 1/2 Phase, -2 OCV, +1 DCV, 12d6 Strike
5
Offensive Trip: 1/2 Phase, +1 OCV, -1 DCV, Range +0, Strike +v/5, Target Falls
---
| | | | | | | |
| --- | --- | --- | --- | --- | --- | --- |
| Range | 0-4 | 5-8 | 9-16 | 17-32 | 33-64 | 65-128 |
| RMod | 0 | -2 | -4 | -6 | -8 | -10 |
---
DEX: 29
SPD: 6
ECV: 3
Phases: 2, 4, 6, 8, 10, 12
18/30 PD (10/22 rPD)
18/30 ED (10/22 rED)
MD: 8
END: 56
STUN: 54
BODY: 20
---
| | | | | | |
| --- | --- | --- | --- | --- | --- |
| Roll | Location | STUNx | NSTUN | BODYx | To Hit |
| 3-5 | Head | x5 | x2 | x2 | -8 |
| 6 | Hands | x1 | x1/2 | x1/2 | -6 |
| 7-8 | Arms | x2 | x1/2 | x1/2 | -5 |
| 9 | Shoulders | x3 | x1 | x1 | -5 |
| 10-11 | Chest | x3 | x1 | x1 | -3 |
| 12 | Stomach | x4 | x1.5 | x1 | -7 |
| 13 | Vitals | x4 | x1.5 | x2 | -8 |
| 14 | Thighs | x2 | x1 | x1 | -4 |
| 15-16 | Legs | x2 | x1/2 | x1/2 | -6 |
| 17-18 | Feet | x1 | x1/2 | x1/2 | -8 |
Height: 1.90 m
Hair: Blonde
Weight: 100.00 kg
Eyes: Blue
Appearance: Tom Thompson is a devilishly handsome man in his mid-20's. He has the confident appeal of someone accustomed to success. As The Whetherman, he pulls a blue nylon mask over his face and a gray mist swirls around his body, obscuring his clothes. His mask has a large question mark on the front, made up of color bubbles like a color vision test.
Background: Tom Thompson was a successful TV weatherman in a world just like this one, except blue whales were recognized as citizens of the Earth and given voting rights. One night there was a terrific superbeing battle in his backyard. Awakened by his fence crashing down and his tree bursting into fire, he peeked out the blinds to see two fiery flying guys battling a woman surrounded by a moving gray mist. The guys were spewing fire at the chick right and left, setting half the neighborhood on fire. She dodged pretty well and let one of them have it with a whallop of air shot out of her outstretched arm. That guy flew back into a neighbor's garage, hit the front end of that guy's new Lexus, and set off the alarm. Then the lady got a burst of fire herself, and went flying right into Tom Thompson! She burst through the glass, and he caught her in his arms, but the momentum slammed both of them down onto his bed! She jumped off him, stalked out the jagged hole, and finished off her attacker. Then she returned to Tom Thompson. "Thanks for the catch," she said. She pulled off a ring and shook out her hair. She was a lot older than Tom had thought. Not too old, though. She caught his look and winked. "Maybe you'd like to try out the wind crusading for a while, handsome." She handed him the ring, he tried it on, and never looked back.
Personality: Tom Thompson is full of himself. In his guise as The Whetherman, he acts as if he's always the center of everyone's attention.
Quotes: Whether sun or shine, the trusty weatherman is always on the air.
Powers/Tactics: The Whetherman can use his powerful Energy Blast not only to damage opponents but also to trip them up with Offensive Trip if they run away.
Campaign Use/Notes: The Whetherman is a classic energy projector.